Sewer Repair Maplewood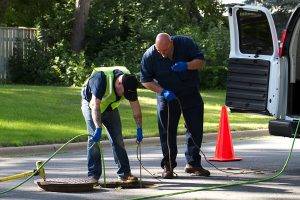 Backed up sewer or clogged toilet? These types of issues can't wait. They must be addressed by trusted professionals as soon as possible. They can quickly wreak havoc on the home, causing huge inconveniences and even damage. That is why it is important to always call for sewer repair for your Maplewood home or business as soon as the issue arrises.
We are one of the most trusted names in sewer repair in the area and we can tackle sewer repair issues for both residential and commercial customers. Our team of professionals know exactly how to diagnose the problem and have the tools and know-how to unclog a minor blockage or major clog.
Our number one job is to get your sewer back up and running in a timely manner. No matter your sewer issue, All Ways Drains can help when you need professional advice and repairs.
When you call us for sewer repairs, you get fast and friendly service. Give us a call today and find out more about our sewer repair services and how we can help you.
Expert Sewer Repair
There are a variety of different reasons your sewer might need to be repaired. And, thanks to our 24/7 response times, you will never have to go long without a working sewer. For anything from clogged toilets to the need for replacement pipes, All Ways Drains can help. Some of the most common sewer issues we encounter include:
Sewer lines infiltrated by tree roots, causing clogs and other damage
Leaking joints in pipes
Clogs caused by hair, dirt, grease and other debris
Aging pipes that are cracked or collapsed
And more
Whatever the issue, we will send a plumber out to your property as quickly as possible to diagnose the problem ans make the necessary sewer repair.
When you call us you can rest assured you will get a plumber that is fully trained, professional and friendly. All Ways Drains is a family-owned and operated business and our number one priority is our customer service and the assurance that you are happy with all of the services we provide.
So, don't put off your sewer repair for another day! Contact the experts at All Ways Drains right away!
Contact Us for Sewer Repair
Are you in need of expert sewer repair for your Maplewood home? Call All Ways Drains at 612-922-9422, or you can contact us for a Free Estimate.