Water Jetting Minneapolis
Sludge, grease and debris can clog your drain line causing a nasty blockage, not to mention a huge inconvenience. A high-pressure water jetting service is one of the best ways to clear out this sediment. At All Ways Drains, we specialize in water jetting in Minneapolis and the surrounding areas, clearing clogs for a variety of residential and commercial clients. There are many benefits to water jetting including:
Cleaner pipes
It's safe for the environment
Little down time
Cuts down on future service calls
Helps save money
And more!
Just give us a call when you have a clogged drain and we can send one of our plumbers to your home or business as soon as possible. We have the tools and skills needed to unclog even the most stubborn drains.
What is Water Jetting?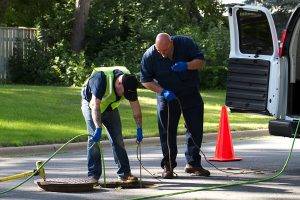 Sometimes, a homemade or store-bought drain cleaner isn't enough to get rid of the blockage and that's when you know you need to call in the professionals. Water jetting is an economical, efficient and environmentally safe way to clean drains and pipes. We use state-of-the-art pumps to propel water through the line. These extremely powerful, concentrated streams of water rush all the way through the pipe walls, thoroughly cleaning the pipes and pushing out the blockage. Even the toughest clogs can't stand up to water jetting.
Some commercial establishments even require regular water jetting to keep their pipes clean of mineral deposits, grease and debris that tend to accumulate in the lines. So, let us know what kind of use your drains and pipes see each day and we can let you know what kind of schedule is right for you.
Water Jetting from All Ways Drains
All Ways Drains has been in business for over a decade, providing water jetting and other plumbing services with reliability and efficiency. And, we are family owned and operated so you know you can trust us for honest and friendly service on every single call. We treat all of our customers as if they are family, and you won't have to cut through a lot of red tape to get the plumbing services you need.
We take pride in our outstanding customer service. We want to be sure that if you are ever in need of water jetting or another one of our many services, or if someone you know has a problem with their plumbing, you will come to us first. We understand that it is vital for you to find a plumber you can trust. That's why we strive to be that type of plumber for you.
Contact us for Water Jetting
Interested in getting more information on water jetting in Minneapolis? Call All Ways Drains at 612-922-9422 or you can contact us to get a Free Estimate.