You may think plumbing is plumbing. However, commercial plumbing systems pose different and more complicated problems than those of residential plumbing systems. Although residential and commercial systems are susceptible to similar issues, the way in which you address them should differ. And, understanding the most common commercial plumbing concerns properties like yours face can help you take steps to reduce the impact of these issues on your plumbing. Proper plumbing from a professional commercial plumber can help save you money, time, and even save your reputation in the long run. As a trusted commercial plumber for Minneapolis and the surrounding areas, we'd like to talk more about commercial plumbing and the types of plumbing issues businesses in this area face. If you notice any issues with your commercial plumbing system, contact our commercial plumber to have them taken care of right away.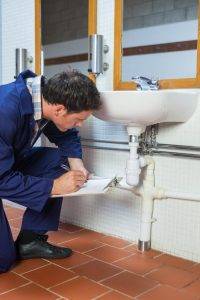 Clogs
Similar to residential homes, clogs are some of the most common issues commercial buildings face. And, commercial businesses are especially susceptible. Many people, when visiting a business or even working at one, don't take special care to prevent clogs the way they would in their own home. And, clogs and backups can be a bigger concern in a commercial space due to both the increased usage and the potential for property damage and hazardous conditions if a major clog occurs. So one of the best ways to avoid clogs at your commercial building is to educate employees and/or residents on proper waste management. For example, what they can and cannot flush, what they can and cannot put down the drain.
If your plumbing is on the older side or you have had several issues with clogs in the past, talk to your commercial plumber about hydro-jetting and other ways to restore your pipes.
Leaks
Plumbing fixtures at your business or commercial property may be used by hundreds of people each and every day. This frequent use can thus result in problems such as leaks that can waste water, reduce performance and cause other problems. Be sure to contact a commercial plumber like ours as soon as you notice a leak is present.
Age
Since many commercial properties are established in existing and leased spaces, you may not know how long your plumbing systems have been there or their current condition. By having a trusted commercial plumber take a look, you can be made aware of any issues ahead of time and have them repaired as soon as possible.
These are just a few of the most common plumbing issues area businesses experience. Call in an expert commercial plumber today from All Ways Drains so we can tell you more about the many services we can offer. When you need a commercial plumber for your Minneapolis business, call All Ways Drains at 612-922-9422 or contact us for a Free Estimate.