Plumbing Edina
At All Ways Drains, we specialize in residential, commercial and industrial plumbing in Edina and throughout the surrounding areas. There is not much our team of professional plumbers can't do, so give us the call the next time you need help from licensed plumbers like us.
Our plumbing services range from helping to unclog a stubborn drain to installing new plumbing fixtures in a newly remodeled bathroom or kitchen and everything in between
We also offer other plumbing services like:
Help with burst pipes
Leaky faucet repairs
Garbage disposal repairs and new installations
Help with low water pressure
Repiping (copper or PEX)
Help with hot and tankless water heaters
Help for homeowners' associations or multi-family housing units
And much more!
Our team can handle any type of plumbing problem out there, so call us today to schedule an appointment. Service calls get top priority, and we are here 24 hours a day, 7 days a week if you are experiencing a plumbing emergency and need assistance right away.
You will be happy you called us for help. We will arrive promptly and handle the repairs quickly and efficiently. We can even give you a free estimate before we begin the repair or replacement work so you know how much you can expect to pay.
Professional Plumbing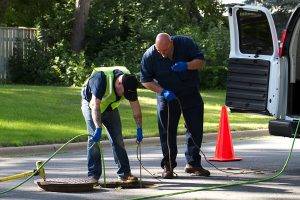 All Ways Drains has been around for awhile now, and we are a family owned and Veteran owned plumbing company. Our customers can expect personalized service and an unmatched attention to detail every time they call us for help.
Whether you need help with a remodeling project, a burst pipe or a leaky faucet, do not hesitate to call us and schedule an appointment. All of our plumbers are both friendly and courteous, and they will be happy to assist you in any way they can. Customer service is always our top priority, and we always want to meet or exceed your expectations.
Call us and we can set up a time to come to your home to help with your plumbing problem. You will be very happy you chose us!
Professional Plumbing and More in Edina
Are you interested in learning more about how we can help with plumbing in Edina or any of the surrounding areas? Call us at All Ways Drains at 612-922-9422, or you can contact us and get a Free Estimate.