Sewer Cleaning Roseville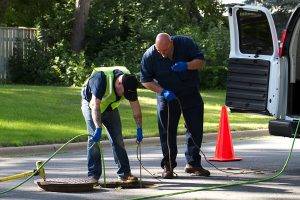 All Ways Drains handles sewer cleaning in Roseville and points nearby. We will get a professional plumber to your home or commercial property as soon as possible to make sure that your sewer is clean and draining properly. Emerging problems with your sewer could be an indicator that you will wind up running into a nasty mess, possibly even needing to have that mess professionally cleaned. Multiple plumbing tasks add up to costing you money, so you should try to have a professional conduct sewer cleaning at the first sign of trouble.
Sewer cleaning as a means of prevention is also a noble pursuit. If anything is looming on the plumbing issue front, a cleaning as carried out by plumbing experts will identify it and allow for a plan of attack to prevent its eventual emergence. Sewer cleaning is something that should be conducted on a regular basis anyway. In addition to ensuring overall health and relative cleanliness, a sewer cleaning will nip any unpleasant odors in the bud as well.
Call us now so we can set up a time to come out to your home or commercial property to take care of that sewer for you. We can answer your questions and provide you with a free estimate so you know how much to budget for.
Professional Sewer Cleaning
The All Ways Drains name has been known and respected in sewer cleaning and other plumbing-related services for many years. So many home and business owners like you have reaped the rewards of our excellent services with all of their plumbing needs. We clean those dirty pipes and/or unclog a backed up sewer or most any other sort of plumbing emergency. We are ready and able to assist you any time you need the helping hands of a professional plumber. You will never have to worry that our plumbers will not show up at your appointment time, and help is always just a phone call away.
Roseville Sewer Cleaning
And if you are experiencing an emergency with your sewer or any other part of your plumbing system, give family and Veteran owned All Ways Drains a call. Someone is here to help you 24 hours a day, 7 days a week – even on holidays! You will receive our undivided attention.
For more information on sewer cleaning in Roseville, call All Ways Drains at 612-922-9422, or you can contact us for a Free Estimate.